This past Christmas my sister-in-law gave me the cutest
Kathy VanZeeland bag
but after attempting to fit all the contents of my purse inside, it was simply just too small. QVC allowed me to exchange it and this is what showed up on my doorstep today:
I LOVE IT! I'm usually not a animal print kinda gal but I love it on this purse!!!
Over a year ago,
mo.honey
posted about
what was in her purse
. I thought it was so fun to read. Who woulda thought the contents of someone else's purse was so interesting? But I've remembered it all this time and always wanted to do a similar post. So now's a time as good as any I suppose.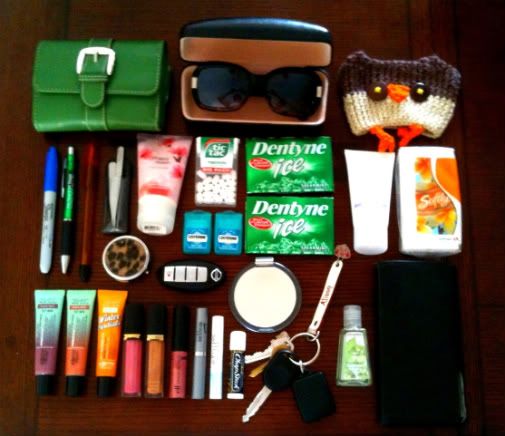 My wallet which shockingly held $33. I almost never carry cash.
Sunglasses and case. Just recently invested in a case because I'm tired of my sunglasses being scratched. Habits die hard though. Do you know how many times I've caught myself just tossing my glasses in?
An owl cozzie made by the talented Rollerscraper. Isn't it cute?
Three pens.
Two pairs of tweezers. Why not just one pair? I have no idea.
A small pill box full of Zantac and Advil.
A tube of Cherry Blossom hand lotion.
Tic Tacs
Listerine Breath Strips
Two packages of Dentyne gum. Are you thinking I'm a little neurotic about my breath? You'd be correct.
Neutrogena moisturizer. A solution to the problem of Special K always complaining that his face is dry and ends up resorting to the Cherry Blossom hand lotion and then grumbles how he smells like a girl.
A package of tissues.
Nine, NINE lip stick-balm-gloss tubes. The crazy part is I can justify why I need all nine.
Special K's car key.
A compact mirror.
My key ring that holds my house key, mail key, car key, car fob and a leather band that has my name engraved on it.
Cucumber Melon hand sterilizer.
My husband's checkbook because that's where all husband's keep their checkbook, right? =)
And not pictured for obvious reasons is my iPhone.